Discover more from Dealsflow.com
Join 400+ investors who buy and sell digital assets for profit. Get exclusive deal alerts & insights.
#3: Another week in digital private equity
Updates, interesting assets, and thoughts
If you have feedback reach out to me at hi@dealsflow.com.
And if you like this newsletter, please spread the word!
💡 Why website investing makes so much sense
A lot of people are wondering these days on how to invest their money. While index funds might bring you 4% per year, there is a much more promising asset class.
If you buy a website for a monthly profit multiple of 30x (which is realistic, see below), keep it stable in regards to revenue and cost, it will return your investment in 2.5 years (30 months) - which equates to a 40% return per year. 🔥🔥🔥
But let's look at it a bit more professionally: Centurica analyzed the market & the median SDE multiple. SDE stands for seller discretionary earnings. Simply put, it is an estimate of the total financial benefit a full-time owner-operator would get from the business per year. Here is a cool explainer video by Quiet Light Brokerage.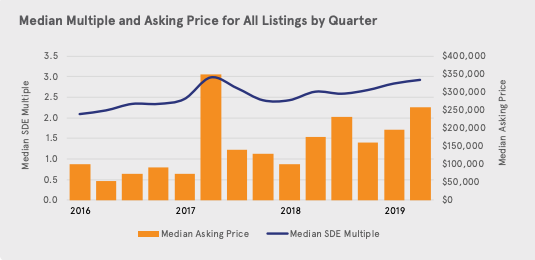 YOU CAN RECOUP YOUR INVESTMENT WITHIN APPROX. 2-3 YEARS!
In other words, with the right skills and knowledge, you could effectively retire with 1/10th the amount of capital (as compared to index funds).
But, the market is slowly heating up:
All major business sector multiples have increased in 2019 due to continued strong demand from buyers and the limited number of sellers. - Centurica
So now is the time to start your path to greater wealth!
🔦 Assets we looked at this week
The section below is meant to educate you and get your head spinning around evaluating websites and digital assets. Train your skills, analyze those websites on your own, and share your thoughts:

Sewcare.com

currently at $30,000 USD, buy it now for $42,000 USD
Review the deal on Flippa here, expires July 2nd.
What looks promising:
Great niche (DIY is 👌),

fair profit multiple,

and strong SEO positioning
BUT:
Weird language & discrepancies: "Autopilot Mode with Zero Investment", the headline says the page is 4 years old, while the actual page age is indicated with 2 years (also confirmed by Ahrefs' traffic overview), etc.

Technical issues: Site went down multiple times in recent days

The author is not answering questions in the comment section
My verdict: ★★☆☆☆ (no buy)
While it looks quite shady and something is definitely off, the SEO positioning is quite good. So if you are in that niche already or want to play with the risk, it could still work...
---
Would you buy the asset above? Do you want me to analyze more websites?
Leave your comments on the web version of this article or reach out to me at hi@dealsflow.com.
💪🏻 Improve your due diligence skills
What to look for in your diligence:
The originality of content: to ensure that a site is actually posting original content, check for plagiarism. You can use tools such as Grammarly.com (which has a plagiarism checker) or even an API provided by Copyleaks.com. Legal protection: While you need a lawyer to evaluate this (which I am not), specific indemnification clauses in your contract with the seller could eventually protect you from copyright claims.

Identify Fake followers: If the asset you look at claims to have large follower numbers on pages such as Instagram, evaluate them first. They might be fake or bought. Tools such as Moodash.io can help out here. I also wrote a how-to article here.

Find bot data or fake traffic in Google Analytics: when evaluating visitor and traffic data, ensure that the Google Analytics tag is implemented correctly and only once (an exceptionally high bounce rate might be indicative), but also do a brief check if the traffic looks like real humans (I wrote a how-to here).
🗞 News & interesting finds
Flippa will run their Own Your Future event on July 9th. Their group of speakers is impressive. From NYT Best Selling authors like James Altucher to Growth Specialists like Noah Kagan.

Great Podcast ("Buying Other Businesses to Build Yours") by Quiet Light brokerage advisor Walker Deibel with Kevin Sanderson. Click here to listen.

Great Hill Partners acquires the stock media marketplace Storyblocks. Another private equity company venturing further into the digital space. I love Storyblocks business model: subscription revenue being (partially) invested in an evergrowing content library. Read the full story on Techcrunch.
👌 Quote of the week